How to create a PDF from Microsoft® Word, Excel, or PowerPoint
How to convert emails to PDF
How to Split a PDF
Create new PDF documents or separate PDF documents combined in one easily with FineReader PDF 15.
Learn how to split PDFs and extract pages easily.
How to create and edit interactive PDF forms
Watch this video and see how to edit and create interactive PDF forms quickly and easily.
Form Editor tool in FineReader PDF 15 allows creating and editing fillable PDF forms with text and date fields, dropdown lists, list boxes, checkmarks, radio buttons, signature fileds and action buttons. Collect information and create effective document templates with ease!
How to extract text from scanned PDFs
How to extract tables
How can I verify if the digital signature is valid?
If you open a document with a valid digital signature in FineReader, you will see a green notification Valid on the left panel of ABBYY FineReader PDF 15: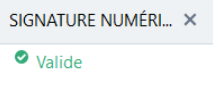 Recognizing a document with existing text layer in FineReader PDF 15
Open FineReader PDF 15;
Go to Tools > Options > OCR;
In the PDF recognition mode select Use OCR option:​
 Click OK;
 Recognize your document again.
How to convert a document into an accessible PDF/UA
Make your mixed documents—PDF, scanned, photographed, or papers— digital and accessible.
In this […]